CLIMB Fund Honored as South Carolina's Leading SBA Microlender
---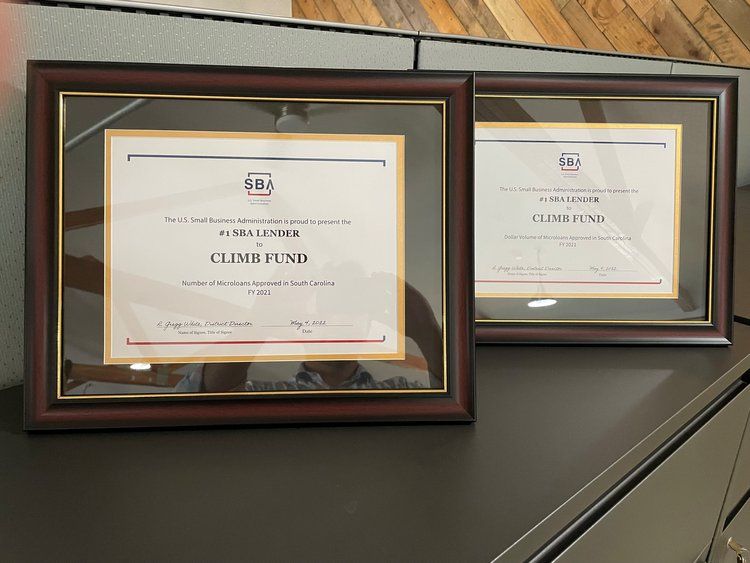 CHARLESTON – CLIMB Fund, a not-for-profit Community Development Financial Institution (CDFI), was recognized by the U.S. Small Business Administration (SBA) last week as South Carolina's leading Microlender in fiscal year 2021.
The SBA Microloan program serves small business and entrepreneurs who need less than $50,000 but are unable to access capital. The CLIMB Fund has been a leading local intermediary for the program since its inception in the 1990s and made 36 new SBA Microloans worth $759,000 in 2021; by far the most loans and highest dollar volume in South Carolina.
The small businesses receiving CLIMB Fund SBA Microloans last year came from a variety of industries and locations across the state, including, but not limited to: a fitness studio in Beaufort, a media company in Charleston, a hair salon in Georgetown, and a restaurant in Summerville. All Microloan recipients are also eligible for ongoing business coaching and technical assistance provided by the SBA and CLIMB Fund.
CLIMB Fund CEO, Cindi Rourk, said "I truly believe we are changing lives and changing communities, now by the hundreds, through the Microloan program. Disadvantaged entrepreneurs and communities are seeing opportunities and building wealth that would have never otherwise been attainable. We are more motivated than ever to continue this important work.