Borrower Spotlight: Meet Blades Professional Barbering
---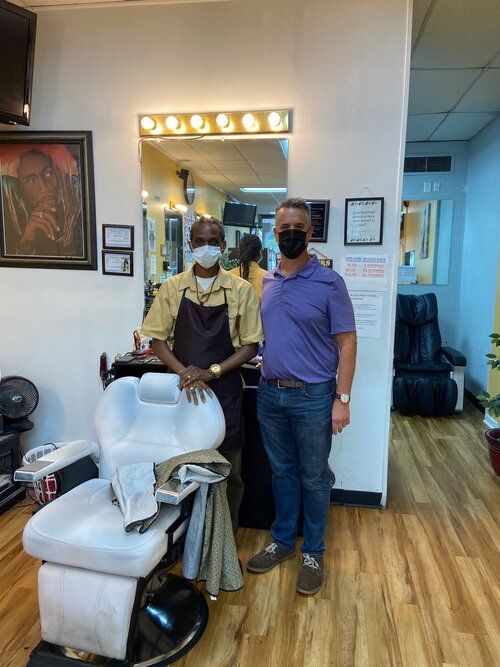 Charlton Manigault with CLIMB Fund's Director of Customer Experience, Charlie O'Brien
Charlton Manigault has been in the barbering business for almost 20 years now. He opened his business, Blades Professional Barbering, on Meeting Street in Downtown Charleston where he spent the first 17 years running his business. Due to rapid development downtown, Blades was forced to move from the original location to North Charleston.
That is when Charlton decided to call CLIMB Fund to see how we could help. He recounts how CLIMB Fund taught him how to clean up his books and manage employees. CLIMB Fund also gave Blades the funding necessary to move to North Charleston. With these funds, Blades moved into a larger space and hired three additional employees. "I can call them anytime and they will give me advice and tell me what to do to keep the business going" says Manigault.
As Blades Professional Barbering makes a new home in North Charleston, Manigault looks for ways to give back to the community. Blades participates in outreach to the homeless and gives free haircuts at local elementary schools. Charlton also mentors the next generation by encouraging young men at Jenkins Academy to focus on their future and hires many students to learn the trade of barbering.
Learn more about the impact CLIMB Fund has made for Blades Professional Barbering by watching the full borrower spotlight video.